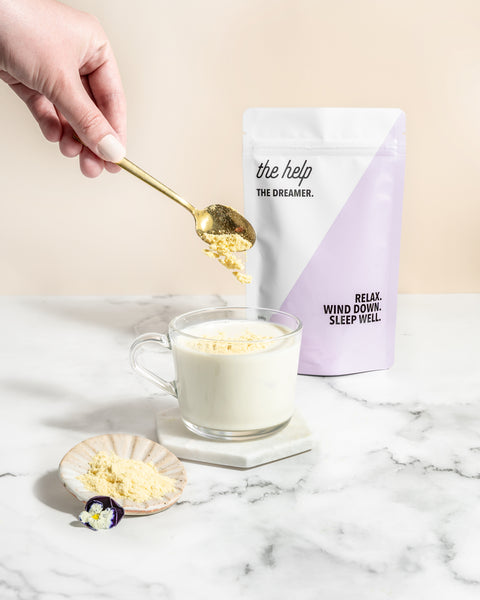 THE DREAMER.
Introducing our newest product The Dreamer. Created to help you get a better sleep which will ultimately help your overall health and wellbeing!
Featuring the following key ingredients:


Magnesium 
can improve
sleep quality, especially in people with poor sleep. Magnesium can also help restless-leg syndrome, reduce stress and help mood stabilization.
L-Tryptophan
is an essential amino acid that helps the body make proteins and certain brain-signaling chemicals. Your body changes
L-tryptophan
into a brain chemical called serotonin. Serotonin helps control your mood and sleep.
Ground Ginger 
is loaded with antioxidants and compounds that help prevent stress.
Chamomile 
has a sedative and relaxing effect that can assist you in getting a better nights sleep.
Passion Flower 
boosts the level of 
gamma-aminobutyric acid (GABA) in your brain. This compound lowers brain activity, which may
help
you relax and
sleep
better.
Turmeric 
can
protect against oxidative damage and
sleep
deprivation. It is widely used to assist in the quality of sleep.
WHAT DOES THE DREAMER DO?

HOW & WHEN TO TAKE THE DREAMER?

WHAT DOES IT TASTE LIKE?

INGREDIENTS.

NUTRITIONAL INFORMATION.
WHAT DOES THE DREAMER DO?
The natural base of premium ingredients in The Dreamer including Magnesium, Passion Flower, Chamomile and Turmeric may help to:

- Get to sleep faster
- Calm your mind
- Relax your body
- Soothe your stomach
- Reduce inflammation
- Help mood swings

The Dreamer is 100% Gluten Free and contains no artificial colours or flavours.
HOW & WHEN TO TAKE THE DREAMER?
The Dreamer is a natural based supplement powder which you mix 5g (2 level scoops) with warm water or warm milk of your choice. Mix and consume 30 minutes before going to bed.

It is proudly 100% Australian Owned and Made.

There are 40 servings per 200g pouch
The Dreamer is naturally flavoured with Vanilla, Honey and Cinnamon.

Some would say it has a similar taste to a sticky date pudding. The perfect healthy but sweet tasting drink to have before bed!
Organic Coconut Milk Powder, Sweetener (Erythritol, Sucralose), Inulin, Minerals (Magnesium Oxide), Natural Flavour, Honey Powder 2%, Glycine, Cinnamon Bark Powder, Celtic Sea Salt, Vegetable Gum, L-Tryptophan, Ground Ginger, Chamomile Extract 0.3%, Passion Flower Extract, Black Pepper, Turmeric Extract, Vitamins (Pyridoxine, Vitamin B12).