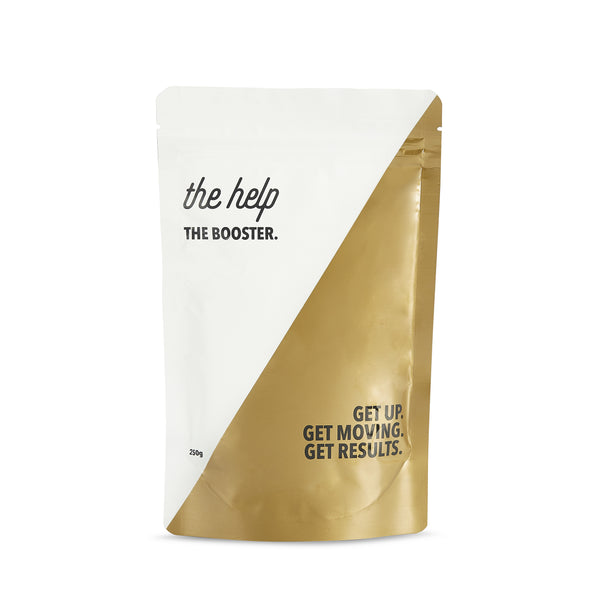 THE BOOSTER.
⭐️⭐️⭐️⭐️⭐️ AMAZING!! 

"I honestly cannot start my day without it! It's been an absolute essential part of my morning! It also gives me a great boost before I work out! I couldn't recommend something more!"
- Georgia L
WHAT DOES THE BOOSTER DO?

HOW & WHEN TO TAKE THE BOOSTER?

VITAMINS IN THE BOOSTER.

WHAT DOES IT TASTE LIKE?

INGREDIENTS.

NUTRITIONAL INFORMATION.
WHAT DOES THE BOOSTER DO?
The natural base of premium ingredients in The Booster including Vitamin B12, Matcha Tea Leaf Powder, Green Tea Extract and Raspberry Ketones may help to:

- Increase your energy levels
- Boost your metabolism
- Assist in burning excess fat
- Improve brain function
- Help to clear skin
- Reduce bloating
- Help mood swings
- Reduce appetite

The Booster is 100% Gluten Free, Vegan Friendly and contains no artificial colours or flavours.
HOW & WHEN TO TAKE THE BOOSTER?
The Booster is a natural based supplement powder which you mix 5g with cold water and consume first thing each morning and 30 minutes prior to exercise.

It is proudly 100% Australian Owned and Made.

There are 50 servings per 250g pouch
The Booster contains the following essential vitamins for maintaining a healthy body and mind:

- Vitamin B12
- Vitamin B6
- Vitamin C
- Magnesium
Similar to a homemade lemon ice tea (not sickly sweet).
The Booster can be added into a juice or smoothie if the taste isn't to your liking.
5g serving scoop included in each pack.
Sweeteners (Erythritol, Steviol Glycosides), Guarana Extract (Guarana Seed Extract, Maltodextrin), Minerals (Magnesium Sulphate), Vitamins (Vitamin C, Vitamin B12, Pyridoxine, Pantothenic Acid), Natural Flavour, Green Tea Extract, Acetyl Carnitine, Matcha Tea Leaf Powder, Green Coffee Bean Extract, Citrus Aurantium Extract, Red Raspberry Powder Extract
---